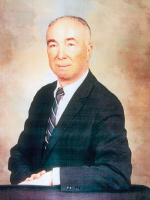 Characteristics of the Slovak Society of Plastic and Aesthetic Surgery
Plastic surgery in Czechoslovakia was established as an independent medical field in the early 20th century. The Department of Plastic Surgery in Bratislava was founded in 1952 based on professional requirements, which was changed to the University Department of Plastic Surgery a year later. Its founder was professor Demjen (in the photo). Later the departments of plastic surgery were founded in Martin, Kosice, Banska Bystrica, Nitra and Presov. Subsequently burn centers in Kosice and Bratislava were founded as well. Many good plastic surgeons were trained over several deceades so the creation of professional organisation was needed. Therefore the Slovak Society of Plastic and Aesthetic Surgery was founded in 1969 / 1973 as a branch of the Slovak Medical Association.
The society currently brings together not only board-certified plastic surgeons, but also plastic surgery residents and doctors of other medical specialties: general surgeons, trauma surgeons, ophthalmologists, dermatologists and others.
The main goal of the society is to create conditions for the development of plastic surgery in Slovakia, increase the expertise of its members, arrange the training programs, organize congresses and support scientific research activities in the field. In this way the society is helping to guarantee a modern, high quality and affordable plastic surgery treatment to patients.
The society has also been recognized as a member of international organizations of plastic surgeons. We are members of IPRAS - International Confederation for Plastic, Reconstructive and Aesthetic Surgery, ESPRAS - European Society of Plastic, Reconstructive and Aesthetic Surgery and EBOPRAS - European Board of Plastic Reconstructive and Aesthetic Surgery.
Committee of SSPAS